Manzano Mountain Madness
October 28-30, 2022
Update 10/28/2022 11:03 AM – Pre-ride on Friday 10/28 is delayed until 3 PM due to weather.

Update 10/30/2022 – Race results can be found at: https://my.raceresult.com/224649/
The NMICL 2022 State Championship race is going to be at Oak Flats Picnic Ground outside of Tijeras, NM.  Located in the picturesque Manzanita Mountains, the buff mountain single track is punctuated with rocky technical sections made up of chunky limestone and sandstone outcroppings.  The course with roughly 4 miles and 400ft of elevation, is well shaded by the abundant Ponderosa Pines, with Pinon, juniper and shrub oaks providing additional floral scenery.  While the single track is tight in some areas it is wide enough for passing in other areas and portions of the race course follow old two-track trails where passing is encouraged.  The start and finish of the race will be clustered near the team pit zones for optimal encouragement and cheering.
OTB 101 & 201 Foundational Skills
Ensure that your student-athletes are proficient in foundational skills from OTB 101 that will be important to have dialed for the race.  Especially focus on bike-body separation for technical Oak Flats terrain.
Areas off-limits to event attendees
During the event weekend, grassy areas between picnic grounds are off-limits to bikes in an effort to reduce land impact.
Oak Flats Picnic Area
Oak Flats Group Picnic Ground, Oak Flat Rd, Tijeras, NM 87059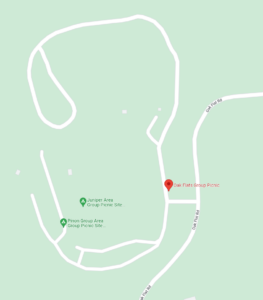 All vehicles must be parked on pavement

Vehicles must park in the designated areas identified with signs at the venue and as shown on the venue map

All vehicles must abide by the instructions of parking volunteers and/or league staff. Any violators risk imposition of penalties against their respective team

Handicap parking is available in designated areas

Vehicles must use the designated loading/unloading zone and immediately move to designated parking areas after unloading at the Pit Zone area

Each team will have 1 parking space near the Pit Zone
Online registration closes prior to the race Tuesday October 25 at 12:00 midnight
Students must be league registered and "race-ready" in order to participate

Race Plates will be picked up at Registration by Head Coach (Friday 12-6 pm, or Saturday 7-8 am)

DO NOT LOSE YOUR RACE PLATE! Students will receive a race plate, so please take care of them. Race plates have chips on the back and require care to avoid damage. There is a

 $20

 fee to replace race plates if lost, or forgotten. Replacement plates are

at

registration.
Volunteering at our Events
Race day would not be possible without the incredible work of our volunteers. It takes a "village" to put on quality youth mountain bike races. Many parents and cycling enthusiasts find that getting involved with our events is a fun and rewarding experience.
Friday and Saturday positions are available
We know some positions can look complex and possibly overwhelming for first-time volunteers. Rest assured ALL of our volunteer positions are fun and require no previous experience and our Core Race Staff are with you every step of the way. You will feel confident and well prepared for your task.
View volunteer training videos HERE
Pick one (or two) that sound interesting to you, and look forward to the fun! CLICK HERE TO GUARANTEE YOUR PREFERRED VOLUNTEER SPOTS FOR EACH OF THE RACES!  For more information contact our Volunteer Coordinator at volunteers@newmexicomtb.org
* Everyone on course must have a race plate (student, coach, league staff) affixed to their bikes.
Friday
9:00 AM        Volunteer Shifts Begin
12:00 PM      Pit Zone Access Open
1:00 PM        Race Plate Pick-up (Head Coach Pick up for the team)
1:00 PM        Pre-Ride Open to Coaches ** Update 10/28/2022 11:03 AM – Pre-ride on Friday 10/28 is delayed until 3 PM due to weather **
2:00 PM        *Pre-Ride Open to all riders
6:00 PM        *NICA GRiT Event – meet at the NICA GRiT Tent (GRiT=Girls Riding Together)
6:00 PM        Pre-Ride Closed – (No riders allowed on course after pre-ride is closed), Reg closed
Saturday
6:45 AM        Volunteer Shifts Begin
7:00 AM        Registration Opens (head coaches race plate pick-up)
7:30 AM        *Pre-Ride Open to all riders
8:00 AM        TREK Neutral Support on-site for Student-Athletes
8:00 AM        Final Opt-In for 1 Lap Fun Lap
8:30 AM        Pre-Ride Closed
8:30 AM        Head Coaches Meeting at the League Trailer
9:15 AM        Staging – Wave 1 MS Boys
9:30 AM        Racing Begins
10:15 AM      Staging – Wave 2 Girls
12:15 PM      Staging – Wave 3 HS Boys
2:00 PM        Racing Concludes
2:15 PM        Pit Zone Break Down Begins
3:30 PM        Awards Ceremony
*Everyone on course must have a race plate (student, coach, league staff) affixed to their bikes.
Pit Zone Information and NICA Rules
PitZone
No parking in the Pit Zone-1 vehicle per team will be allowed to drive/drop in Pit Zone and park in a designated spot nearby

No Smoking, Alcohol, BBQ's, Gas Generators or open flames in Pit Zone

NO BIKE RIDING ALLOWED IN THE PIT ZONE

No caffeine for student athletes
Staging
General
POSITIVE SPORTING ATTITUDE- Fair play and respectful, kind, supportive behavior is expected of all students, coaches, and parents.

Every person participating in our event weekend is required to wear a HELMET any time they are on their bike.

All athlete support/food/water must happen in the designated FeedZone (athletes are allowed to eat/drink on the full course, but may only be given extra food/water in the designated FeedZone)

1 supporter per team allowed in FeedZone

Please use the dumpster for garbage, rather than filling garbage bins throughout the site.

There is no water on site, you will need to bring all of your own water

No inappropriate language allowed.

Dog expectations – all dogs must be on leash and under control for the safety for all event participants (and riders!)

Conflicts and/or disputes should be handled with the league staff (Chief Race Official) and should not be dealt with in the team Pit Zone area.

Any violation of the above rules may result in a team penalty and/or expulsion from the Pit Zone and infield area

We are a community, and every rider deserves a supportive team & crowd. Please stay and cheer on all participants for the races and the awards ceremony.
Pre-Ride Hours 
Coaches Only (Friday 1:00PM -2:00PM)
Friday afternoon (2:00 PM–6:00 PM)
Saturday morning (7:30 AM–8:30 AM)
All racers should pre-ride the course
RIDERS MUST ADHERE TO ANY COURSE RESTRICTIONS
NICA GRiT Event is from 6-7pm Friday.  Meet at the NICA GRiT Tent at 5:50pm
TO BE ON COURSE: ALL RIDERS (STUDENTS & REGISTERED COACHES) must be fully practice ready in the Pit Zone and have their number plates affixed to their bike
NO UNREGISTERED PARENTS/SIBLINGS ALLOWED ON COURSE
 Pre-Ride Team Emergency Action Plan (For Coaches)
Information in this race flyer is subject to change.  Please check back just prior to the race weekend to make sure you have the most current information available.  
SEE YOU AT THE RACE!!!
If there is a last minute change we will post updates on our website and Instagram.
MIDDLE SCHOOL

HIGH SCHOOL

1 Lap Fun Lap

League Registration (annual)

NICA Registration (annual)

$85

$40

$85

$40

$85

$40

Race Entry Fee (per race)

$35

$35

$0
*Online pre-registration closes at 11:59PM on the Tuesday prior to the race.  After Tuesday, you will not be allowed to register for the race.  
*No day-of registration; no exceptions.
* 1 Lap Fun Lap does not require the same online registration as other race categories, but to allow our registration manager to finalize all categories coaches will attempt to get head counts before race day.  
All Registered NICA Student Athletes are allowed to opt-in for the 1 Lap Fun Lap up until Saturday, October 29, at 8 am.
*Scholarships and financial assistance are available, for more information email director@newmexicomtb.org.
STAGING will begin 15 minutes before each wave.  
Note: Final lap count decision per category will be finalized and confirmed at the start of each race in addition to any lap cut-off times.
Wave 1: Middle School Boys
CATEGORY

(NUMBER SERIES)

START TIME

LAP COUNT

EARNED LAP CUT-OFF TIME

ESTIMATED DURATION

RACE PLATE COLOR

8th Grade Boys (1000's)

9:30 AM

2

9:56:59 AM

45 minutes

Red

7th Grade Boys (2000's)

9:32 AM

1

N/A

45 minutes

Blue

6th Grade Boys (3000's)

9:34 AM

1

N/A

45 minutes

Yellow

1 Lap Fun Lap

(Girls & Boys)

9:36 AM

1

N/A

45 minutes

N/A
CATEGORY

(NUMBER SERIES)

START TIME

LAP COUNT

EARNED LAP CUT-OFF TIME

ESTIMATED DURATION

RACE PLATE COLOR

Varsity Girls (1-49)

10:30 AM

4

11:42 AM

100 minutes

Orange

JV Girls (100's)

10:32 AM

3

11:48 AM

90 minutes

Dark Blue

Sophomore Girls (400's)

10:34 AM

2

11:30 AM

90 minutes

Pink

Freshman Girls (700's)

10:36 AM

2

11:30 AM

90 minutes

Green

8th Grade Girls (4000's)

10:38 AM

2

11:04:59 AM

45 minutes

Red

7th Grade Girls (5000's)

10:40 AM

1

N/A

45 minutes

Blue

6th Grade Girls (6000's)

10:42 AM

1

N/A

45 minutes

Yellow
*1 Lap Fun Lap (Girls & Boys) at 9:36 AM, 1 Lap
CATEGORY

(NUMBER SERIES)

START TIME

LAP COUNT

EARNED LAP CUT-OFF TIME

ESTIMATED DURATION

RACE PLATE COLOR

Varsity Boys (50-99)

12:30 PM

5

1:42 PM

120 minutes

Orange

JV Boys (300's)

12:32 PM

4

1:48 PM

100 minutes

Dark Blue

Sophomore Boys (500's)

12:34 PM

3

1:28 PM

90 minutes

Pink

Freshman Boys (900's)

12:36 PM

3

1:30 PM

90 minutes

Green
*1 Lap Fun Lap (Girls & Boys) at 9:36 AM, 1 Lap
STAGING will begin 15 minutes before each wave. Staging will be random for all race categories.
All riders will receive a permanent number plate with chip timing transponder on the backside. Riders will use the same plate for the entire race series, so please remove this number plate before mounting the bike for transport to prevent loss. Replacement number plates will be available at the registration tent for $20.
Petitions for Category Placement
Those petitioning for any exceptions to their category placement must do so by Sunday, October 23, (10/23/22) by Midnight.
No race day petitions will be accepted

Petitions must be submitted by

October 23, 2022

All riders need to be invited to register in the Pit Zone online.
1 Lap Fun Lap does NOT requires a petition, but we will need the information about which student riders are participating so that we ca move their registration to the right category.
Medals will be awarded for the top 3 riders in each category. Leaders Jerseys will be awarded to the top racer in each High School category.
Due to the 1 race this season, team points and awards will not be officially provided
Below are the guidelines for how the league will conduct races in the event of challenging weather. Our primary considerations are the safety of riders, support staff and spectators, and potential damage to the venue and trails. Any decisions regarding canceling, postponing or altering race start times, lap lengths, number of laps, etc. will be made jointly by league staff and the land manager. Often this decision cannot be made until the morning of the race due to the unpredictable and rapidly changing nature of severe weather. The league will make every attempt to notify the racing population as soon as possible via email, social media and website updates. Please review our full weather policy at: https://newmexicomtb.org/weather-and-refund-policy/
Handbook: NICA Policies and Rules
All participants are required to read, understand and abide by all league policies, rules and protocols while attending any league event.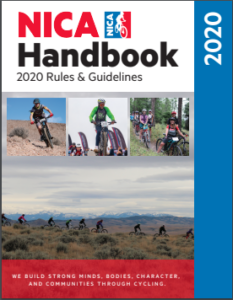 NICA Race Duration Guidelines
Riders will complete laps with the following Race Duration Guidelines for each category:
<45 mins for Middle School

45-90 mins for Frosh/Soph boys and girls & and JV girls

60-100 mins for JV boys and Varsity girls

90-120 mins for Varsity boys
Student-athletes may be asked to withdraw at the finish line after cut off time limits have been reached.
Race officials reserve the right to determine these time limits at any time.
Time limits may be imposed for reasons that include, among others: safety, heat, cold, rain, and muddy conditions.
Course closures may be announced at any time.
Racers who do not make the time limit cut-off will still be scored and ranked.
Due to weather or course closures, these duration guidelines may be changed at League Discretion.
Camping and LodgingCamping and Lodging
A mandatory head coaches meeting will be held Saturday at 8:30am at the league trailer.
Each team must have 1 representative present at the meeting.
Our New Mexico mountain bike community is all about camping! We encourage racers, coaches and parents to camp out,  overnight camping will be available both Friday and Saturday nights.
Some Guidelines:
Parental supervision required, no exceptions.  League staff and team coaches are not responsible for student athletes outside of pre-ride and race day

Campsites are primitive and first come first served. No hookups for RV's but RVs and Trailers are welcome

No campfires or open flames allowed.  Propane grills and stoves allowed as consistent with current local fire restrictions

There will be 1 large dumpster, please take your trash there!

BRING YOUR OWN WATER, there is no water available at the venue area

The bathrooms will be open and available
TREK of Albuquerque will provide Neutral Support for all Student Athletes on Saturday.
There is no water on site, plan accordingly.
There is no food service at this venue, plan accordingly.
Please note that most staff arrive onsite Thursday or Friday of each race weekend and may not have sufficient cell/data coverage to respond to calls/emails. Please plan accordingly.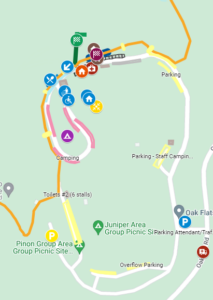 | | |
| --- | --- |
| Team | Pit # |
| ABQ Academy | 7 |
| ABQ Comp/LCHS | 12 |
| Also Leopold | 4 |
| Bosque | 6 |
| Dine Comp | 8 |
| Eldorado | 11 |
| Gallup Comp | 1 |
| Hope | 9 |
| Los Alamos | 10 |
| Sandia Prep | 3 |
| Santa Fe Comp. | 2 |
| Toas Comp | 5 |
The course is roughly 4 miles with 400 ft of climbing, there are sections of singletrack mixed with double track for passing.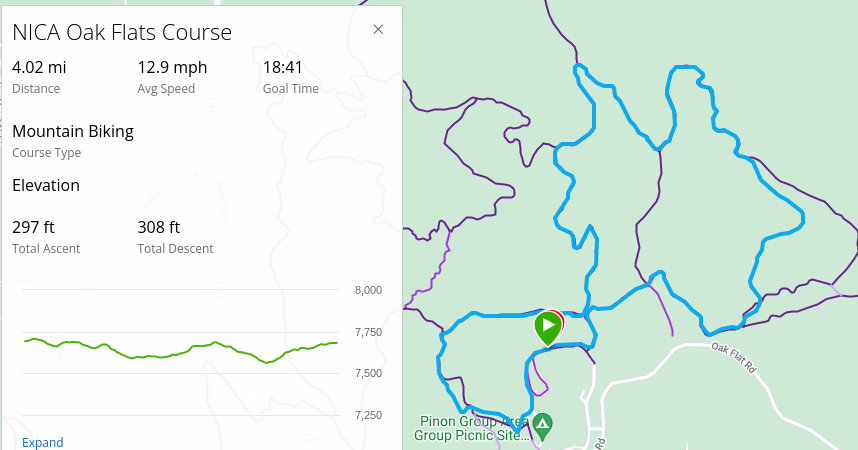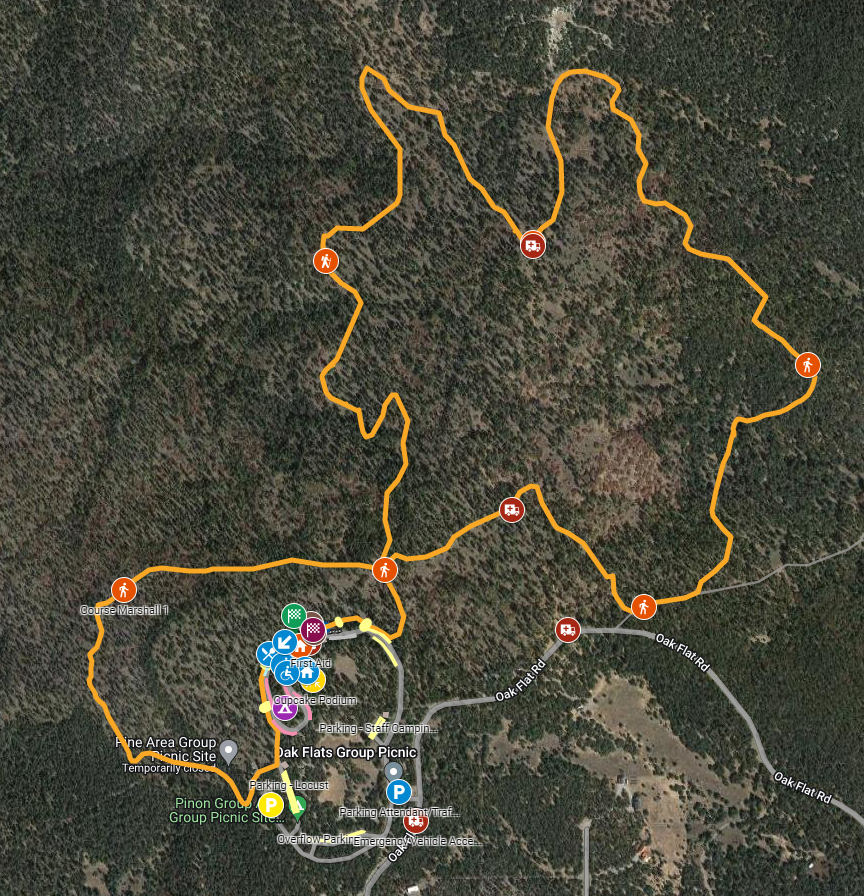 Additional Event Info to Share
Neutral Support by TREK

NICA GRiT Ride

Community Partners/Sponsors: Impact Foundation, Allen & Randalin Hilton, Juli Kline, Jon Saari with State Farm, NMBRA, Trek of Albuquerque, Physical Therapy Plus, Outride, Silver Stallions, Southwest Indian Foundation, Pajarito Mountain, N3B, Cupcake Podiums.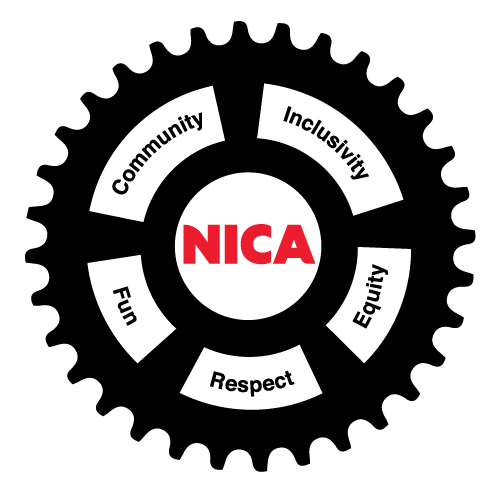 League and National Sponsors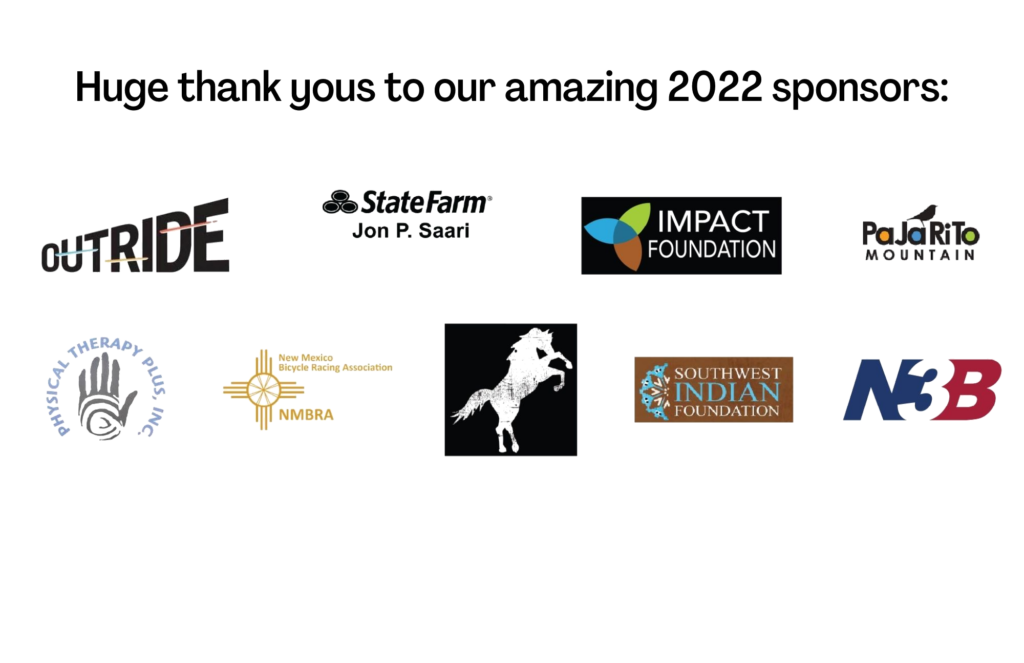 NICA Safety Reporting and Insurance Coverage
Safety Reporting
Incident reports are mandatory whenever a student-athlete or coach is injured during a NICA activity. These incident reports are submitted by each Team's Designated Reporter or an independent rider's parent. For more information on Safety Reporting reporting please see our brochure here.
Insurance Coverage
NICA Insurance coverage is for registered student-athletes and registered coaches injured while participating in the sanctioned pre-ride and race events.
For more information on NICA Insurance Coverage, please see our FAQ here.
The New Mexico Interscholastic Cycling League is a Project League of the National Interscholastic Cycling Association, a 501(c)(3) non-profit youth development organization, guided by the core values of fun, inclusivity, equity, respect and community. The league promotes interscholastic mountain bike racing, provides training and education to new teams and coaches, and offers a comprehensive infrastructure to grow youth cycling in a professional, safe and engaging manner.
Last minute changes to the above information may be found at on this google doc. Information contained on this page was generated on October 25, 2022.